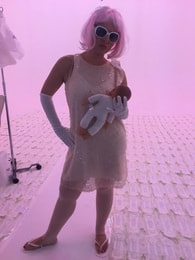 ​
​JULY 2016
Just finished a fabulous project installation at Roll Gate Studio, created and directed by Hannah Kallenbach with Daniella De Jesus & Cindi Katz.



---
​JULY 2016

Worked with these amazing actors, (Lilli Stein, Paulo Quiros, Mirirai Sithole, & Vic Terenzio) at The New Works Lab at Stratford on a new play called, "How the Colds were Razed, (As Told by Gorilla Girl,) by Cristina Castro, directed by Katherine Pardue. I played Gorilla Girl, the family dog!


​

---
JULY 2016

Thrilled to play a singing waitress on my favorite show, Orange is the New Black, Season 4, episode 3,

​directed by Andrew McCarthy!

FEBRUARY 2016

What a joy working on the premiere of Lyndsey Bourne's new play, Bathtub, directed by Max Reuben, with Jordan Baum, Jamie Effros, and Daniella De Jesus at The Tank.